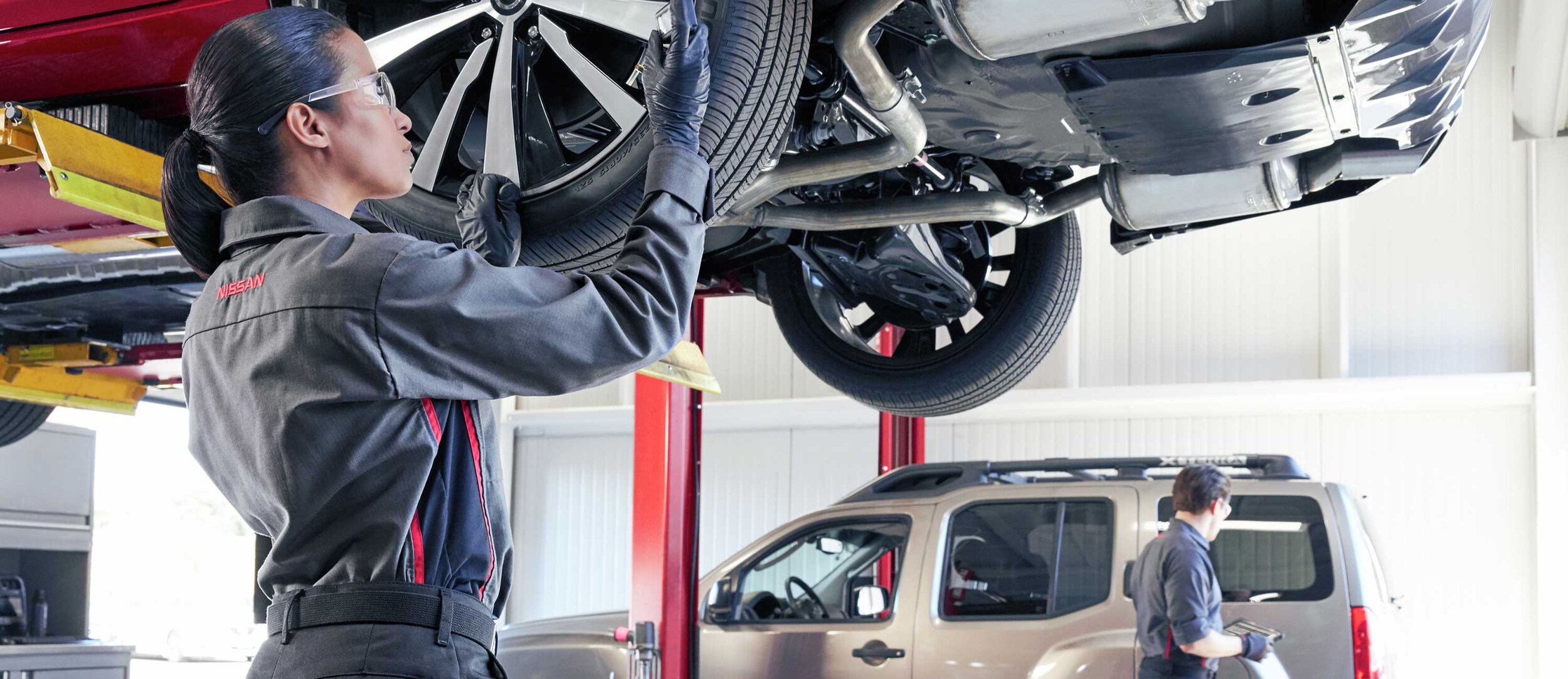 Los Angeles Tire Center at Universal City Nissan
Whether you noticed some wear and tear on your tires, the tread has already fallen well below the recommended condition, or you are dealing with the unfortunate circumstance of rubble puncturing it, we are ready to assess your situation accurately and save the day. At Universal City Nissan, our friendly team of tire experts will have you back out on the roadways of Los Angeles in no time at all by delivering speedy tire services that help you stay on track with your hectic agenda.
Need a damaged tire plugged, standard balancing and rotating maintenance performed, or some help deciding which ones are the perfect replacement option for your current set of wheels? Our tire specialists utilize their extensive expertise and the necessary tools to make sure you feel confident hitting the roads throughout Los Angeles CA on durable tires designed to enhance your vehicle's overall level of performance. In addition to meeting any of your service requests related to tires and earning the total satisfaction of countless customers over the years, Universal Nissan keeps your budget in mind. This is why we always aim to offer the most affordable prices, which includes beating or matching lower costs from anyone else.
Now that you are aware of all these important details, set aside just a few minutes in your busy schedule to learn even more about how repairing or replacing the tires on your Nissan vehicle becomes an easy task thanks to our comprehensively trained and certified group of tire pros completing the work.
Making a Smart Call
Now that you are aware of the signs of a car that needs realignment, the choice before you is simple: Either you can come in to the experts here at Universal City Nissan that know exactly how to undertake a proper front- or four-wheel alignment service, or you can trust these crucial camber, caster, and toe-in or toe-out wheel adjustments to the less-experienced shops here in Los Angeles that may or may not have all of the specialized equipment needed to handle this maintenance the right way.
Considering how important having a car that runs smoothly is to staying on track with your busy daily schedule, can you really afford to settle for anything less than the affordable expert service waiting for you here at Universal City Nissan? Call (866) 245-8623 today and we will help you get back on the road and riding smoothly in your favorite car, truck, or SUV in no time.
COMPLIMENTARY TIRE ROTATION
Similar to alignment, consistent tire rotation can also help your tires last longer and prevent uneven wear. Tires wear differently depending on the position they're in, which is why rotating them helps distribute wear more evenly among all four tires.