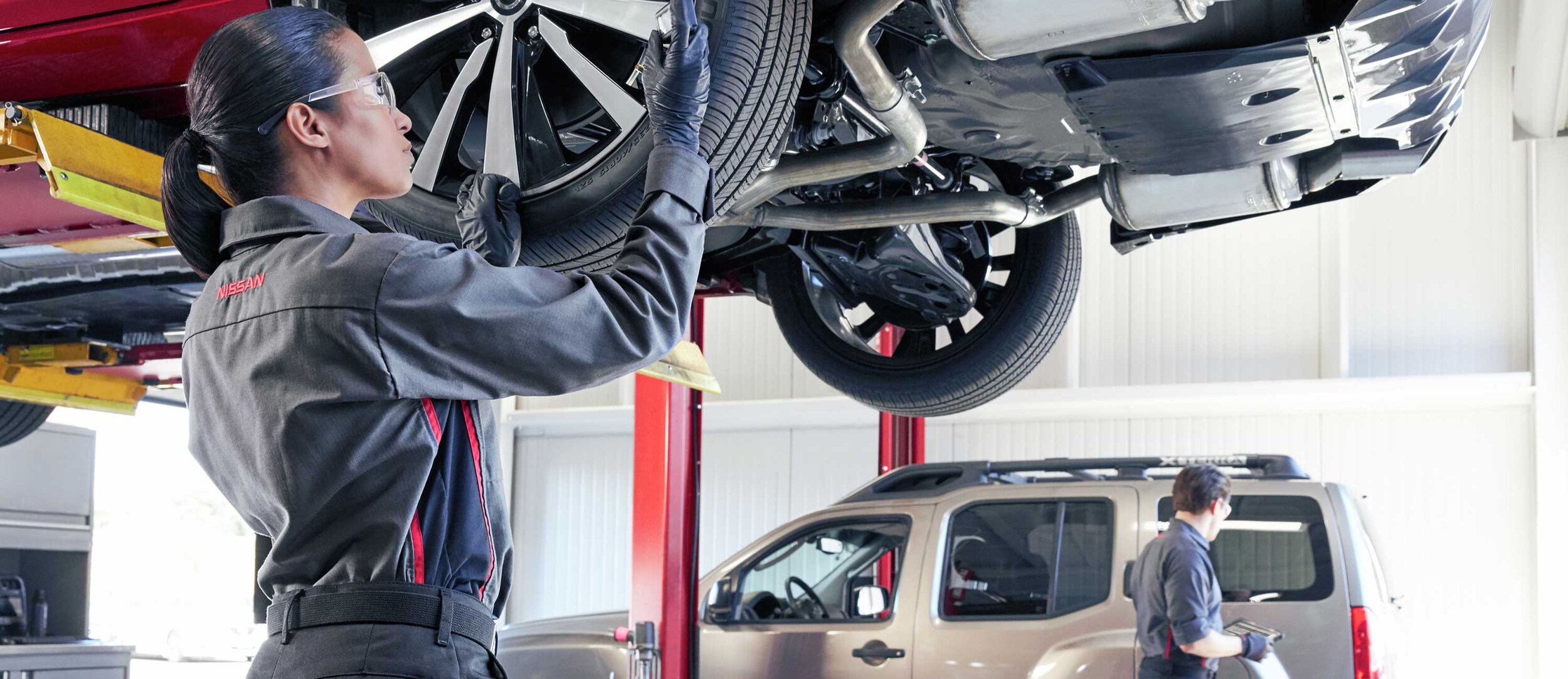 Is your car running a little off, or perhaps your drive into work is bumpier than you remember it being? If so, now is the time to bring your car in to the trusted service experts here at Universal City Nissan. As the leading name in car repairs and routine maintenance here in Los Angeles we are happy to provide you with an ironclad commitment to outstanding service and wheel alignments done right.
Ready to learn a little more about how Universal City Nissan can help you get your vehicle back to running smoothly and driving straight as an arrow? Then follow along as we offer up a look at the common symptoms of a car in need of alignment, as well as how we can help you get your favorite car, truck, or sport utility vehicle (SUV) back in working order in no time.
Do I Need an Alignment?
The first question up for discussion is the most important: Is your car in need of alignment service? If you find yourself facing down any of these common symptoms or issues related to a vehicle that currently is out of alignment, then you'll definitely want to schedule an appointment with our team of trusted alignment experts as soon as possible:
Uneven tread wear
Tread wear on only outer edges
Crooked steering wheel while driving straight
Vehicle pulling to the left or right
Squealing tires
Abnormal wheel vibration
Additionally, if you recently bumped into a curve or ran over a pothole, you may be in need or realignment. Even if everything seems fine initially, it is important to keep in mind that symptoms related to this problem can take time to manifest after this kind of mishap.
Making a Smart Call
Now that you are aware of the signs of a car that needs realignment, the choice before you is simple: Either you can come in to the experts here at Universal City Nissan that know exactly how to undertake a proper front- or four-wheel alignment service, or you can trust these crucial camber, caster, and toe-in or toe-out wheel adjustments to the less-experienced shops here in Los Angeles that may or may not have all of the specialized equipment needed to handle this maintenance the right way.
Considering how important having a car that runs smoothly is to staying on track with your busy daily schedule, can you really afford to settle for anything less than the affordable expert service waiting for you here at Universal City Nissan? Call (866) 245-8623 today and we will help you get back on the road and riding smoothly in your favorite car, truck, or SUV in no time.
COMPLIMENTARY TIRE ROTATION
Similar to alignment, consistent tire rotation can also help your tires last longer and prevent uneven wear. Tires wear differently depending on the position they're in, which is why rotating them helps distribute wear more evenly among all four tires.