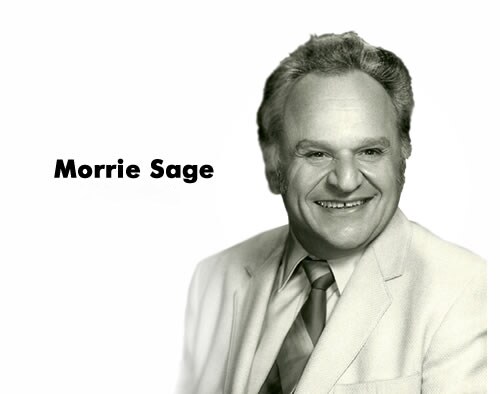 Morrie Sage
was born Morris Schrage on December 27, 1930, in Lodz, Poland, where much of his early life was formed by a loving, large and prosperous family. In 1939, as Hitler began his push into Poland, Morrie's father, Michael, made the fateful decision to evacuate. Sadly, many of his family members had perished during the Holocaust, however, his parents and siblings survived as a result of the courageous efforts of the elder Schrage.
With very limited opportunities for relocation, the family settled in Cuba, where they would begin again. Through his father's acumen, hard work and determination to survive, the family once again began to thrive when Michael opened a shoe factory in Matanzas, Cuba. This is where Morrie first learned about the impact that innovative advertising and marketing could have on the success of a business. This newly found knowledge and clear display of talent would prove to be most beneficial to Morrie later in his life where he became well known for his maverick and revolutionary approach to Automobile advertising, solidifying him as an industry icon and being named in 2009 as one of AUTOMOTIVE NEWS MAGAZINE'S 50 All Time Most Visionary Auto Dealers in the United States.
Morrie fell in love with his beautiful, and newly adopted country, Cuba. His passion for Cuba, her music and her people was something that he carried with him throughout the rest of his life. In 1959, Fidel Castro's regime would deal yet another new hand, forcing the family to leave everything behind in his beloved Cuba and once again, to begin anew.
Now, a young man, Morrie set his sites on Los Angeles. He arrived with only enough cash to survive a few months. Here, he would find that he had learned more from his father than he even realized; success was not a dream, not even an option. Success was a reality born of perseverance and hard work, and he quickly set about creating it. In 1955 he began selling cars for Hull-Dobbs Ford, then in 1969 opened his first dealership, a tiny, out of way, Datsun dealership in North Hollywood that he would name Universal City Datsun. In 1970, Morrie moved Universal City Datsun (later Universal City Nissan) to its current location visible from the Hollywood Freeway and across from the Universal Studios. Under his leadership and along with his sons, Michael, Joseph and Leonard, the company grew to a total of six Los Angeles Area dealerships employing nearly 1,000 people and sales of approximately 700 million dollars. Currently, his 7 dealerships sell Nissan (3), Infiniti, Toyota, Kia, and Mercedes-Benz vehicles.
Morrie's tireless work, teachings and example have created a legacy that is deeply rooted in the lives of so many people that he touched throughout the years. Many have built their professional lives through his vision of hard work and the relentless pursuit of being the best that they can be. A countless number of former employees working under Morrie's leadership later became owners of their own dealerships. Morrie's latest project was that of record producer. In 2010, Morrie produced a compilation of Cuban songs performed by local Cuban musicians from Havana. These songs were originally recorded with his brother Harry in 1958 in a small bedroom at the family home in Matanzas. Along with Morrie's friend, Jimmy Mazlon, owner of Ahi- Nama Records, the songs he and his brother recorded in 1958 were re-mastered and released under the name "The Lost Cuban Trios of Casa Marina". Due to the unique quality of the recordings as a result of the engineering brilliance of his brother, Harry, and the authenticity of the Cuban sound Morrie loved so dearly, the CD quickly shot to the number 1 position on the Amazon Latin Music charts.
His colorful, beautiful life will be forever remembered and celebrated by his three sons, his former wife and children's mother Helen Schrage, his sister Betsy, his eight grandchildren, Halston, Max, Kaitlin, Alexis, Lily, Pilar, Kristin and Henry, his extended family, close friends and by hundreds of employees, business constituents and their families. Amongst other family members, he will rejoin his beloved daughter Alexis Schrage, who preceded him in death.