Call 866-612-9413

Let us help you down the path towards a New Zero Emissions Nissan LEAF.

Call our Internet Sales LEAF Specialist at

866-612-9413

to reserve yours today.


Available through Universal City Nissan, the fully electric Nissan LEAF. Nissan's commitment to protect our environment and to produce a true zero emission is not just a dream, it is a reality. The LEAF has a 100 mile range, plenty of get up and go, and room for 5. The LEAF has a state of the art lithium ion battery with plenty of power and fast charge times.

---
Nissan's New LEAF Electric Car Sign-Ups To Start In April.
By Associated Press on Feb 15th, 2010
Nissan Motor Co. said Thursday that it will start signing up customers in April who want to buy its new Leaf electric car, with shipments starting by the end of the year.
Nissan has shown the five-passenger sedan, which can go 100 miles on a single charge, at cities around the country over the last three months in a push to market zero-emission technology.
The Japanese automaker has received $1.4 billion in loans from the federal government to help it build the Leaf, and the battery packs to power it, at a factory in Tennessee.
Nissan Americas Chairman Carlos Tavares said he expects about 20,000 people to sign up to purchase the vehicle.
The Japanese automaker will announce pricing in April, but a spokesman says the price will be similar to that of a base-level Toyota Prius hybrid, which
starts at $22,800
.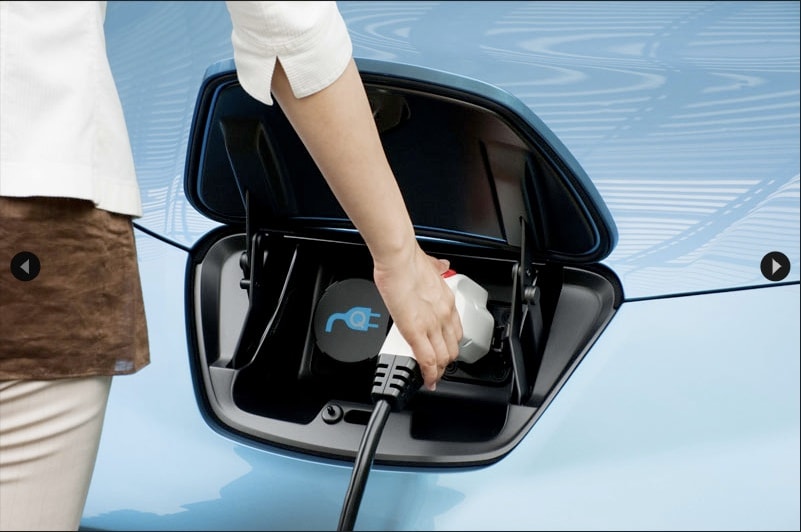 That would make the Leaf more accessible to the general public than other electric cars on sale today, like the Tesla Roadster, the battery-powered sports car that retails for $109,000. Tavares says the goal with the Leaf is to make electric cars available to a wider group of consumers.
"It's not a car just for early adopters or green addicts," Tavares said in an interview.
Deliveries of the Leaf will start in December. It will go on sale in Nissan showrooms in the U.S., Japan and Europe at around the same time.
Nissan does not have a target for how many Leafs it expects to sell, though 20,000 for the first year is a reasonable estimate based on the number of people who have expressed interest in the car, Tavares said.
Nissan will build the Leaf in Japan until 2012. Then production of the vehicle and its lithium-ion battery packs are scheduled to start at Nissan's plant in Smyrna, Tenn., outside Nashville.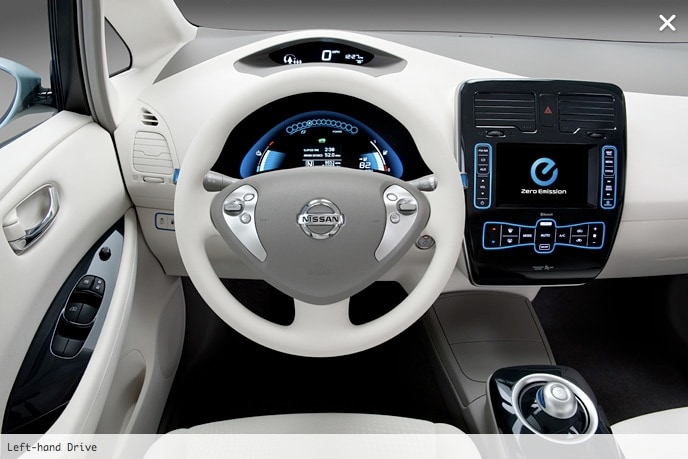 Although the powertrains are different, the Leaf could compete with General Motors Co.'s much-touted Chevrolet Volt, also slated for sale late this year. Unlike the Leaf, which operates on electric power alone, the Volt is powered by electricity but has an internal-combustion engine that kicks in after 40 miles to propel it longer distances.
The Volt is expected to retail for $40,000. Both the Volt and the
LEAF will be eligible for up to $7,500 in tax credits.
In recent months, Nissan has been promoting partnerships with municipalities to help develop electric-charging networks. The company, headquartered in Yokohama, Japan, has more than a dozen partnerships in the U.S. in markets that include Tennessee, Oregon, Sonoma County and San Diego in California, Phoenix and Tucson, Ariz., Washington D.C., Seattle, Raleigh, N.C., and with Houston-based Reliant Energy.
Copyright 2010 The Associated Press.
---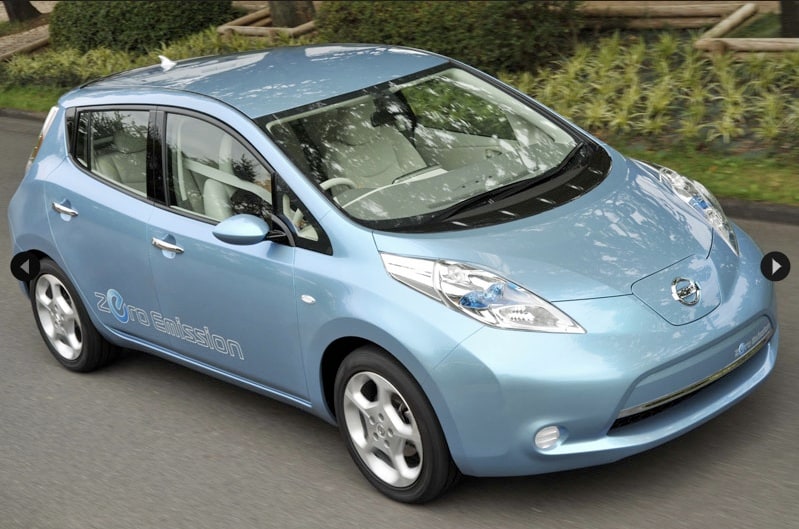 Nissan LEAF is powered by laminated compact lithium-ion batteries, which generate power output of over 90kW, while its electric motor delivers 80kW/280Nm. This ensures a highly responsive, fun to drive experience that is in keeping with what consumers have come to expect from automobiles powered internal-combustion engines (ICE). Unlike ICE-equipped vehicles, Nissan LEAF's regenerative-braking system and innovative lithium-ion battery packs enables the car to deliver a driving range of more than 100 miles on one full charge. And, Nissan's approach makes charging easy and convenient. Nissan LEAF can be charged up to 80% of its full capacity in just under 30 minutes with a quick charger. Charging at home through a 200V outlet will take about eight hours - ample time to enable an overnight refresh for consumer and car alike.

REAL-WORLD ELECTRIC CAR
The engineers and designers behind the Nissan LEAF worked to create a competitively priced, real-world car that would enable Nissan to lead mobility into the zero-emission era. And to ensure comfort, spaciousness and cargo capacity to meet consumers' real-world needs, Nissan LEAF employs a completely new chassis and body layout.

DISTINCTIVE DESIGN
Employing a concept Nissan calls "Smart Fluidity," Nissan LEAF incorporates clean, intelligent lines that promote optimum aerodynamics. Nissan LEAF's frontal styling is characterized by a sharp, upright V-shaped design, featuring long, up-slanting headlights that use light-emitting diode (LED) illumination. The headlights employ a blue internal reflective design that, when illuminated, announces, "This car is special." But the headlights do more than make a statement. They are also designed to cleverly split and redirect airflow away from the door mirrors, thus reducing wind noise and drag. And, the headlights provide yet one more benefit. They consume about 50% of the electricity of conventional lamps. This helps Nissan LEAF to achieve its world-class range autonomy. Through bright trim colors inside, Nissan LEAF creates a pleasing and stylish cabin. An environmentally friendly "blue earth" color theme originates from the Aqua Globe body color. This theme is carried into the interior through blue dashboard highlights and instrument illumination.
CONNECTED MOBILITY (zero-emission exclusive IT system)
Nissan LEAF features an exclusive advanced IT system. Connected to a global data center, the system can provide support, information, and entertainment for driver 24 hours a day. The dash-mounted monitor displays Nissan LEAF's remaining power - or "reachable area" - in addition to showing a selection of nearby charging stations. Another state-of-the-art feature is the ability to use mobile phones to turn on air-conditioning and set charging functions - even when Nissan LEAF is powered down. An on-board remote-controlled timer can also be pre-programmed to recharge batteries. Through new IT features such as these, Nissan LEAF owners will enjoy a convenient, new style of mobility in the zero-emission era